[02/14/09]
I probably won't officially start this project until summer, but I've begun compiling all my research, made my design and begun collecting my materials. My Jedi is going to be a Zabrak. There are so many human Jedi out there, but an alien is so much more fun, and I've noticed aliens usually have a little more leeway for costume customizations. For my costume, I plan to have dark brown for all components except the main tunic. My undertunic will be a scoop neck instead of a v-neck with vertical pintucks for visual interest. The overtunic will go down about mid-thigh with a bit of a full skirt to it. The sleeves will be binded around the forearms with brown strips. Here is my design: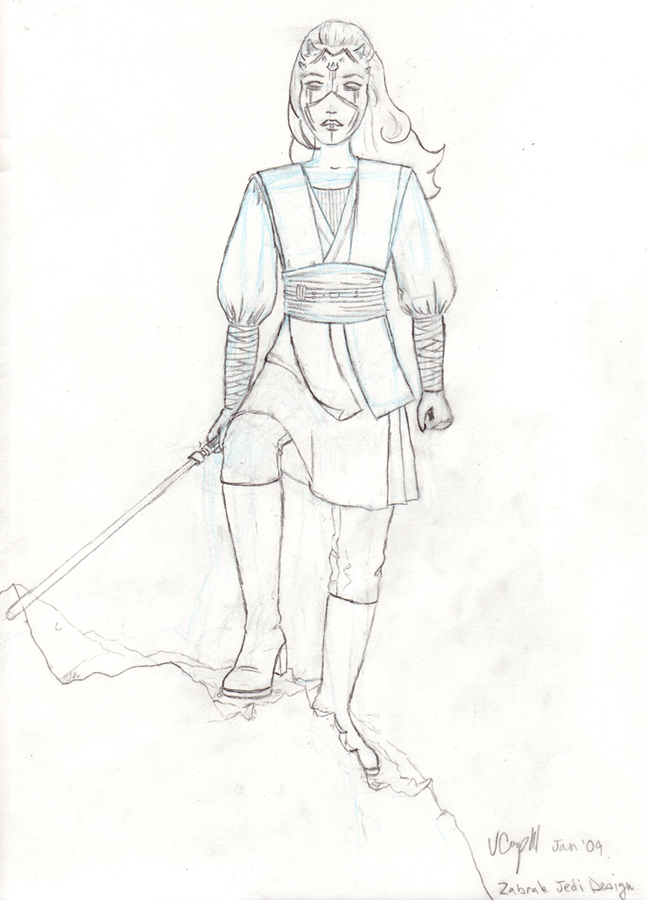 The day after I came up with this design I stumbled across a great fabric that will be perfect for my outer tunic. It is a linen/rayon blend and looks very much like the sample of Obi-Wan's tunic fabric I have with my Dressing The Galaxy book, only a little lintier.
I also ordered a box of 14 Staedtler liquid point 5 pens to make my jedi food capsules out of. According to other sources, these pens were what they made the real ones out of for the movie. They are a german made pen and they don't just carry them at the Office Depot anymore and I can't find any dealers online. I lucked out and found a US Dealer on eBay so I snagged them while I could. I'll probably make them all up, keep 6 and sell the rest.